Shared by reBlog @ Eyebeam


An amazing artist and human. He was one of the most wonderful people I met.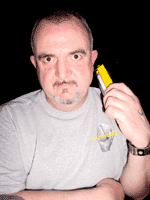 It is with great sadness that Brainwashed has learned of Peter 'Sleazy' Christopherson's passing.
Reports have come in this morning of November 25th, 2010, that Christopherson passed away quietly in his sleep at his home in Bangkok.
Peter Christopherson wrote, on July 31, 2010, in response to his interview in The Quietus:
"we are all only temporary curators of our present bodies, which will all decay, sooner or later. In a hundred years or so ALL the humans currently alive will have died. I take great comfort in knowing, with certainty, that thing that makes us special, able to enrich our own lives and those of others, will not cease when our bodies do, but will be just starting and new (and hopefully even better) adventure...
If we don't get to meet in this Life, maybe in the next you can buy me a beer! ,-)"
Sleazy will be remembered for his fruitful music career with Throbbing Gristle, Coil, SoiSong and The Threshold HouseBoys Choir as well as his visual work as a music video director, photographer and his stint with design company Hipgnosis. His work frequently was outside the bounds of normality and indeed challenged the very idea of normality. His art touched us all and his innovative and free approach to music cannot be denied.
Chris Carter and Cosey Fanni Tutti simultaneously announced his death this morning on twitter:
"Our dearest beautiful Sleazy left this mortal coil as he slept in peace last night.words cannot express our grief."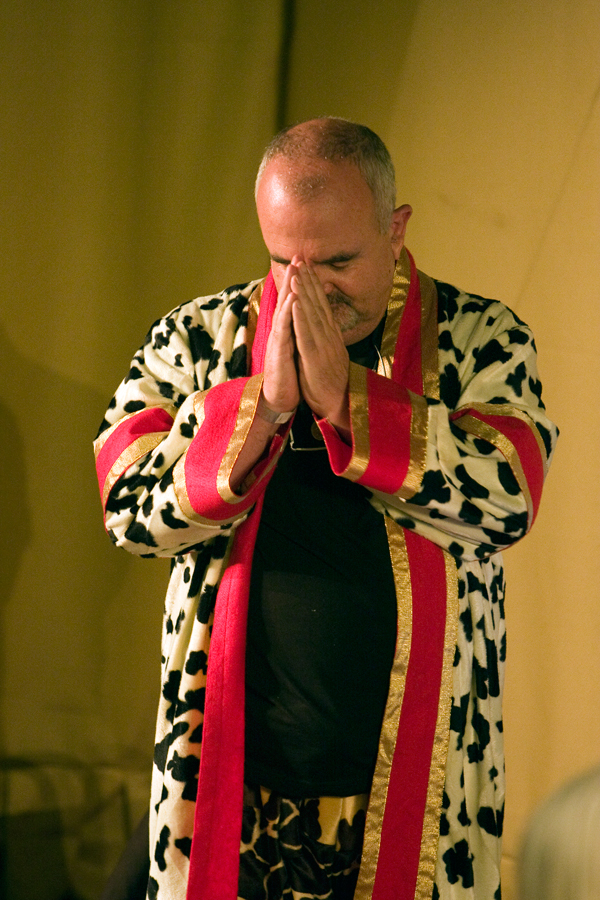 However, as sad as his death is, it is impossible to not be affected by Sleazy's optimism and his music in recent years strove towards happiness and positivity. After the loss of Jhonn Balance and the end of Coil, Sleazy's relocation to Thailand gave him the spiritual and emotional boost he needed to create new, even more personal music. His performances as The Threshold HouseBoys Choir celebrated life and living just as his work with Coil celebrated a life less ordinary and the freedom to be your own person. Most recently, SoiSong and X-TG (the remains of a divided Throbbing Gristle) seemed to be opening new avenues to his music, his creative energies never seeming to dim (even if he got easily sidetracked).
In an interview with The Quietus earlier this year, Sleazy reflected on his own life and work:
"I just try to continue to live my life honestly and happily, helping local people where I can, bringing when I can, any new found knowledge or insight to the western public via music or art. If sometimes this means sticking your head over the parapet, or even "going over the top", I try to do so when it's safe (and legal) but we owe it to the people who were in this foxhole before us, to do our bit for our comrades in arms."
Former Coil contributor Danny Hyde told us:
"I just keep checking the net as if the news will change. In all my life of working in studios Pete was without exception the most positive, creative and all round great person to be around when making music, and equally when recieving non-judgemental life coaching I will not underestimate his worth to me, and from this day on, it would not be overstatement to say that for me nothing will ever be the same again.
I spent yesterday afternoon replying to a long email I received from Pete dated 24/11 talking about various things including finishing TG's take on Desertshore album, something we had started in 2006 and had slowly been updated by TG, it seemed it was at last to see Life. I replied back to him, and for the first time was really honest about how much his help to me had been, I awoke this morning to discover he was dead, I have no way of Knowing if he read my reply.
What can I say that hasn't been said by others, but for me an exceptional human being has passed on."
David Tibet told Brainwashed:
"Sleaz was one of the kindest, gentlest, funniest and individual people I had ever met. I met him in 1982 as part of the fledgling PTV/TOPY grouping, when Genesis took me round to his house in Chiswick, West London. Geff Rushton had just moved in. Sleazy was incredibly open and welcoming to me. He remained a friend for all these years; he was especially sweet to me when Sebastian Horsely died.  Of his remarkable art and utterly individual vision, I must write later."
David Tibet also made this statement on his own Coptic Cat website:
I am immensely saddened and shocked to hear of the passing of Peter Christopherson early this morning at his home in Bangkok. I am too upset to think clearly of what to write, but I thought I would put up this email that Sleazy sent me 23 June 2010 after Sebastian Horsley went on. Not only does it show Sleaz's immense kindness, humour, love and generosity of spirit, but what he said about Sebastian's leaving his body and us also sums up what I would like to say about Sleazy. Peace and Love always to you, beloved Sleaz, now with beloved Jhonn, at play in Æon. I will never forget you and your kindness and your love. I miss you deeply.
David Tibet, Hastings, 25 XI 2010
Hi David
Commiserations about Sebastian Horsley.
Although you and I are probably both physically and scholastically many many miles apart, I hope you feel as I do that the part of him that made him so wonderful – his Soul if you like, although the words are different here – is not lost in the same way our temporarily custodianed bodies cease to useful any longer when we die.
In whatever way or whatever form or on whatever "bardo", the spark that really made him so special will continue to beautify and enlighten future generations somehow.
I know it's horrid to have someone you love, and love the company of, snatched away (especially unexpectedly) but to quote one of Geff's improvised lyrics "I am not here… I am here!"
You will always be able to bring the Sebastian that was, to mind… unless you are gaga, in which case it won't matter for long ,-)
Don't forget there will always be a spare room for you here in Bangkok, should you feel like a break from the UK – well a comfy and private houseboy-free sofa (unless you've changed more than I thought in which case, the houseboys can be provided also!).
Why not "be here now"? :-)
Allmylovesleaz
Robin Rimbaud warmly recalls his friendship with Sleazy:
"I met Sleazy just at the release of the first Coil album. I remember the fondest moments with him and one aspect that always stood out was his generosity and gentle nature. He would always offer time to talk and respond. At the release of the first Scanner CD in 1992 he told me it was the first album he'd listened to all the way through at the time! His final words to me last month in London at the last TG show were in a conversation about airport security and he told me 'there's nowhere left to hide anymore' - I wonder where he's hiding now though."
Friend and collaborator Marc Almond wrote on his website:
"It is with great sadness we have to tell you that Peter Christopherson, affectionately known as Sleazy, passed away in his sleep last night. As well as being a member of iconic experimental and highly influential band Throbbing Gristle. He was also one half of Coil who I worked with and contributed vocals to their albums on a number of occasions. Peter also directed a number of my earlier videos, some of my best such as Ruby Red, Melancholy Rose and Mother Fist. We had lots of fun seeing how subversive, ironic and mischievous we could be in a pop arena though in the case of Ruby Red it just got us an outright ban! He was also a good friend as was John Balance, the other half of Coil who also sadly passed away a few years ago. We kept contact throughout the years and this news gives me great sadness. Peter was much loved and we have lost a great creative person."
John Kealy writes:
When I met him at Brainwaves in 2008, I found even in his jetlagged state that he was never less than a perfect gentleman; his quiet demeanor betrayed by a mischievous twinkle in his eyes. His live show as The Threshold HouseBoys Choir that weekend was unlike any other performance I had seen, it was more like an informal chat with Uncle Sleazy than a concert. In contrast, seeing Coil's final performance in Dublin in 2004 was a white hot blast to the mind. Again, unlike anything else but world's apart from that night in Boston.